Product Description
silicone sponge rubber manufacturing tunnel oven
480v 3phase 60hz
Independent power control cabinet
14 m * 1.4m * 1.3m
Inlet 2m Outlet 2m
4 zones ,2.5m per heat zones.
2+2.5+2.5+2.5+2.5+2=14
370W*2PCS motors control 2 belt
2 belt speed controllers adjust each 7 m (2 +2.5+2.5 m)
Teflon belt width: 1.2 m
Belt mesh hole 2 x 2mm
Vulcanization: 180~230 Celsius
far infrared Lamp heat to top and bottom
Top 15pcs
Bottom 15pcs
15*1kw+15*1kw= 30kw
(top and bottom heaters on separate controls)
Internal circulation fan 750W*4PCS
4 cylinder Lift open oven cover
2 'Exit'=Exhaust gas or smoke exhaust
3d drawing for tunnel dryer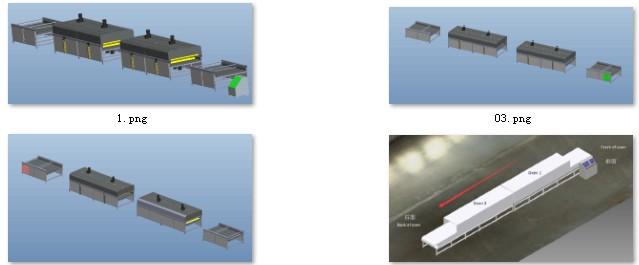 Why Silicone?
Benefits of using silicone rubber
1,TEMPERATURE
Silicone rubber is one of the few elastomers that has the ability to perform in extreme temperatures on both sides of the scale. The range of silicone sponge products will withstand temperatures of -76°F to +446°F for sustained periods in application, whilst the special grades formulated with the addition of heat stabilisers take the maximum working temperature of the silicone as high as +570°F.
2. WEATHERING
Silicone has incredible resistance to weathering and environmental influences. Over time, there is very little change to the properties of silicone when exposed to the elements. Silicone is also resistant to ozone, oxidation, ultraviolet light, corona discharge, cosmic radiation, ionising radiation and general weathering.
3. INERTNESS
Silicone rubber is a stable elastomer that will not cause staining, corrosion, or deterioration of other materials it has contact with and does not support fungal growth.
4. LOW COMPRESSION SET
Excellent compression set properties of sponge silicone makes it the elastomer of choice for sealing applications at adverse temperatures ranges.
5. VERSATILITY
Silicone extrusions are used in a wide range of everyday products and equipment and are usually used for sealing applications. Commonly used in industrial and commercial applications where there can be extensive temperature variations from light fittings and door seals in ovens to gaskets in HVAC and automotive, especially the new breed of electric vehicles being developed.
Payment Terms︰ tt
Product Image